MTM Clear Aligners at Douglas E. Oliver, DDS
Your New, Beautiful Smile Awaits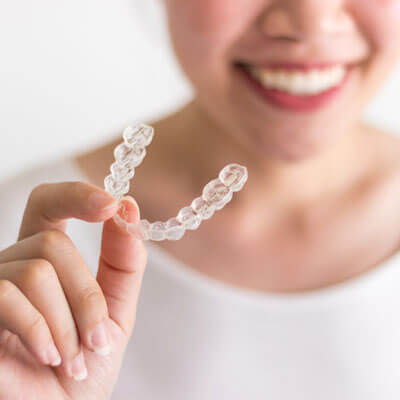 Ready to renew your smile? This modern-day orthodontic treatment helps align your teeth without harsh metal braces. Enjoy the ease and affordability of these clear aligners that will help renew and unveil your best smile.
What Conditions Do MTM Clear Aligners Treat?
Spacing
Crowding
Misalignment of center teeth
Teeth tipping outward or inward
Teeth rotation
Orthodontic relapse
If you have a specific dental condition you don't see here, please call us so we can discuss if MTM Clear Aligners are right for you.
Getting Started with Affordable MTM Clear Aligners
When you come to our office, we'll do an examination to understand what your objectives are in being fitted for MTM Clear Aligners.
Then, we'll take X-rays, photographs and impressions of your teeth. A 3-D image of your teeth is used to create a treatment plan customized to your teeth.
The MTM Clear Aligners Plan
Based on your treatment plan, custom-made clear aligners are created specifically for you and slide right over your teeth. You will need to wear these aligners all day and only remove them to eat or brush and floss your teeth.
These comfortable aligners will be changed approximately every two weeks, gradually making the changes you desire in each stage. The total number of stages will depend on the changes necessary. Over the course of about a year, you'll be able to enjoy your favorite foods and maintain your normal lifestyle while your teeth align perfectly.
During this process, we'll have you stop in regularly to make sure everything is progressing well with achieving your best smile.
See if MTM Clear Aligners are right for you and discuss your insurance coverage. Say hello to a beautiful new smile!
CONTACT US
---
MTM Clear Aligners Pinole CA | (510) 724-6161