Common Causes of Teeth Yellowing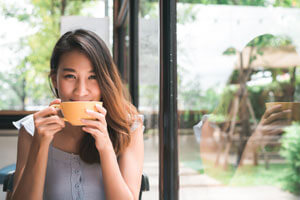 If yellow teeth have you covering your mouth, there are some things you can do to spruce up your smile.
It's important to understand what causes the yellowing of teeth. When tooth enamel wears down, dentin, the yellowish layer underneath the tooth, starts to show. The foods and beverages we consume can make teeth look dull also.
Top offenders include coffee, black tea, cola, sports drinks, red and white wine, hard candies, and bright-colored fruits and vegetables. After consuming any of these, it's a good idea to drink water to help wash away the resulting acid.
A variety of teeth whitening options are available to get a gleaming smile. We'd be happy to recommend the option that's best suited to your needs and budget. Practicing good dental hygiene habits like brushing your teeth at least twice a day and flossing can help keep your smile shining bright.
When Teeth Have White Spots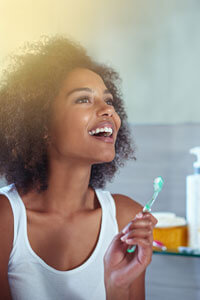 While gleaming white teeth boost confidence, white-spotted teeth, referred to as hypo calcification, can result in self-consciousness. What causes these tooth blemishes?
White spots can be caused by a variety of factors including genetics, nutrition, too much fluoride intake and wearing braces. Decalcified enamel, which is often the cause of white spots, can cause your teeth to deteriorate.
A white spot may indicate that tooth decay is present. The enamel may turn to a milky color in the place where a cavity begins to develop.
The best ways to prevent white spots are to brush and floss your teeth daily and to eat teeth-friendly foods such as those that are rich in calcium. If you already have white spots, we can provide a variety of treatment options to perk up your pearly whites. Scheduling regular dental checkups can help you keep your teeth in tip-top shape!